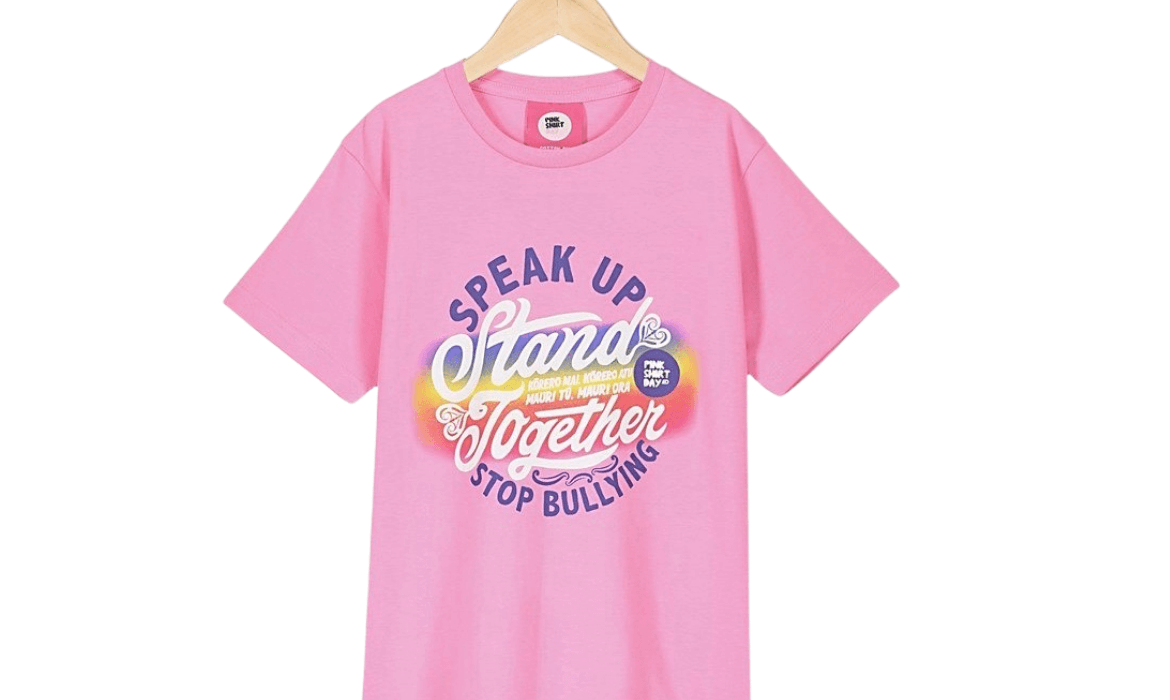 This morning I taught my son about 'Bullshit Rules', or 'Brules'. Probably not the best word to be teaching a seven year old but it's a useful concept I think he needs to know!
I was telling him that today is Pink Shirt Day to stamp out bullying in New Zealand and that Dad and I were going to be wearing pink shirts.
My son wrinkled his nose up a bit as I know he doesn't consider pink to be a 'boy colour'. "Here's a teachable moment", I thought to myself.
I told him that way back in 1918, pink was actually considered a colour for boys and blue was considered a colour for girls. In the 1940s, they swapped it around and decided to promote pink as a 'girl colour'.
He thought that was very interesting!
I said, "There are some rules that are just bullshit rules. Like, who made up this brule that only girls should wear pink? Does wearing pink make a boy less of a boy? Or you less of YOU?"
We both agreed that no it does not and that anyone can and should wear any colour and, in fact, anything they like.
Just like his friend who's a boy loves wearing dresses. If that's what he wants to do, I said he should go for it! My son wholeheartedly agreed.
This is just a small example of catching a bullshit rule in action but I'm sure we are all guilty of adopting bullshit rules without really thinking. Judgemental rules like 'only girls wear pink' hurt and exclude other people and can lead to bullying.
This in fact happened one day in 2007 when a new year 10 student was harassed and threatened for wearing pink. Two fellow students, David Shepherd and Travis Price, took a stand against this homophobic bullying and birthed 'Pink Shirt Day'. David and Travis bought dozens of pink shirts and gave them out  to their classmates to wear the next day. The word got out online and hundreds of students showed up in pink to stand together against bullying. Pink Shirt Day has been celebrated in New Zealand since 2009 and is run by the Mental Health Foundation of New Zealand. While all people can be the target of bullying, LGBTQIA+ bullying remains a strong focus of Pink Shirt Day in Aotearoa.
It can take practice to be mindful and courage to go against the bullshit rules of our society. We especially need to teach our kids to be able to spot a Brule before adopting it and, of course, to be kinder and more inclusive of others.
Shockingly, New Zealand has the third highest rate of school bullying out of 51 countries. And 1 in 5 employees report being bullied in the workplace. Bullying is a risk factor for anxiety, depression and suicide. Nipping brules in the bud will go some way towards stamping out the atrocious rate of bullying experienced in our schools, workplaces, communities and whanau.
Here's to breaking bullshit rules together and creating a society that values kindness, diversity and inclusion!
Author: Gina Couper, Co-founder and CMO at Loffty
'Brules' is a term coined by Vishen Lakhiani, Founder and CEO of Mindvalley. Read more about them and his book, Code of the Extraordinary Mind, here.